The time of day and lighting are essential factors in getting the finest photograph. Understanding your property's orientation can assist you in choosing the best time to arrange your photo shoot for the most extraordinary exterior and interior shots. There are general guidelines, but as you know, every item and situation is unique, and many elements must be considered when determining the ideal time for real estate photography.
In this blog, we have considered all influential factors and classified them so that you can easily find the one matching your property. Since the exterior and interior shots each have to dance with the light in their way, we have divided the timing of the shoot accordingly. That will be our starting point, and we'll cover different types of properties as we go on.
Best Time to Shoot the Exterior
A perfect shot from the outdoors is vital for properties that stand alone. Of course, when taking photos of an apartment, you also need to include some outdoor pictures of the communal amenities and structure.
Generally speaking, early morning or late evening are the most fantastic times of the day to shoot. Professionally speaking, each type of property requires different considerations regarding the best time for shooting them. Let's check them out:
Stand-alone houses:
These include:
Houses in the Suburbs
Usually, they have a lawn or garden at the front and around the estate that separates them from other homes.
Houses in rural areas
Such residences often have a vast natural surroundings and are secluded.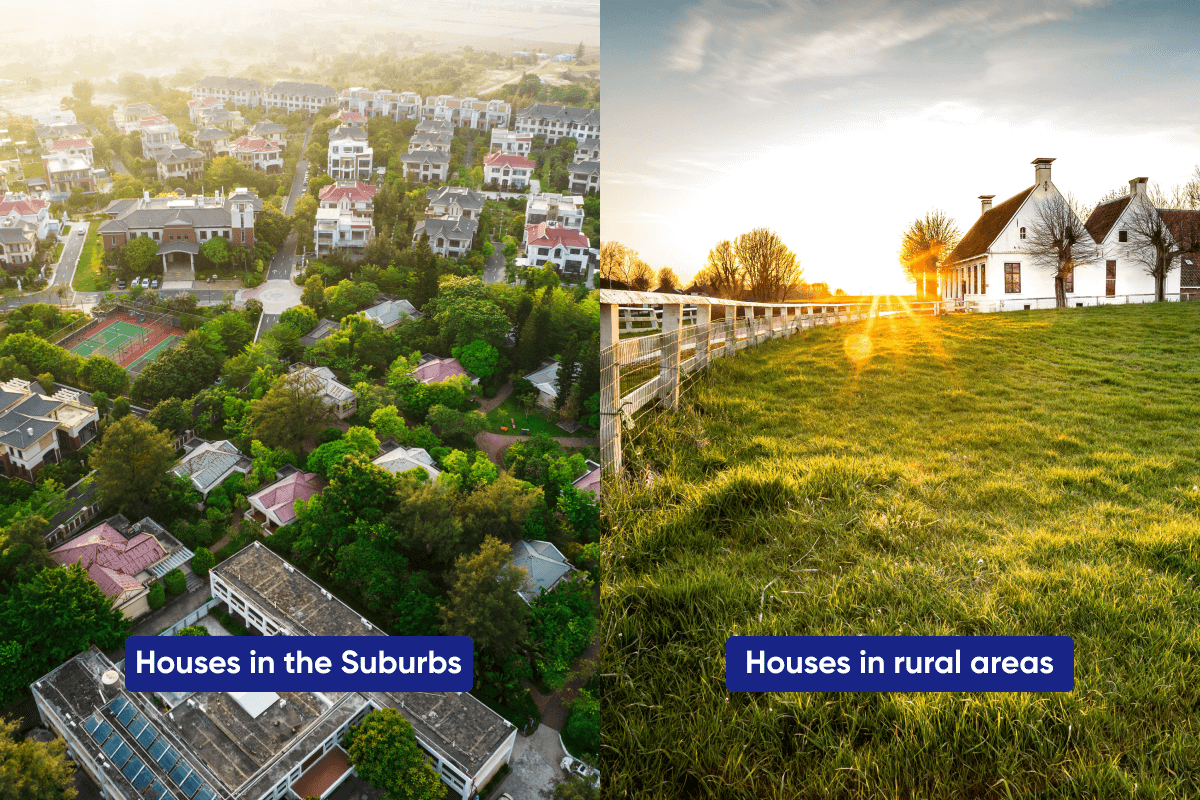 With these properties, you can go for that big shot that captures the whole property. Such images can be the hero shot used as the image representing the property in ads. It acts as a hook to lure prospective buyers in. That is why capturing that picture in the best possible light is vital.
There are multiple players involved in capturing the best exterior shot. Let's see what they are and how they affect your best shooting time.
The direction of a property
We must know how the property is positioned to capture the best possible exterior. Some houses, especially luxury estates, have multiple sides worth capturing, so you should consider that when planning the order of your shots. Depending on the direction your property is faced, these are the suggested times to shoot:
East-facing houses: Early to mid-morning

West-facing houses: Afternoon

North-facing houses: Between 10:00 a.m. and 2:00 p.m.

South-facing houses: Early morning or late afternoon
It is safer to use early morning light if you are unsure of the exact orientation of your property. The afternoon light tends to cast an orange glow, creating a gloomy picture.
The geography
The location of the property you are shooting leaves its marks on your outdoor shots.
Tropical places
In tropical places, you have sharper sunlight and big plants, resulting in massive shadows in exterior photos. If you are going for the day shot, choose the early morning or late afternoon to avoid capturing deep shadows. Of course, you can always count on shadow removal services.
Cold places
As we go north or to the mountainside, the weather changes drastically. It may be hard to find sunny days. Such a climate gives you rain and snow more often, which can be these residences' selling point. Turning the property's lights on and going with a dusk photo can assist you in capturing the estate with the best lighting.
Artificial lighting
Sometimes a property has a state of the art lighting that it's best to capture at dusk to showcase the artificial lighting. With such estates, if you have the time, you can catch it once in the morning and once at sundown with the lights on. This way, you can demonstrate the transformation from dawn to dusk.
Apartment buildings
The interior is more focused with such listings since the outdoors is usually not that appealing. You can also use the general rule of early morning and late afternoon here unless there are exceptional outdoor features that shine better in a specific light.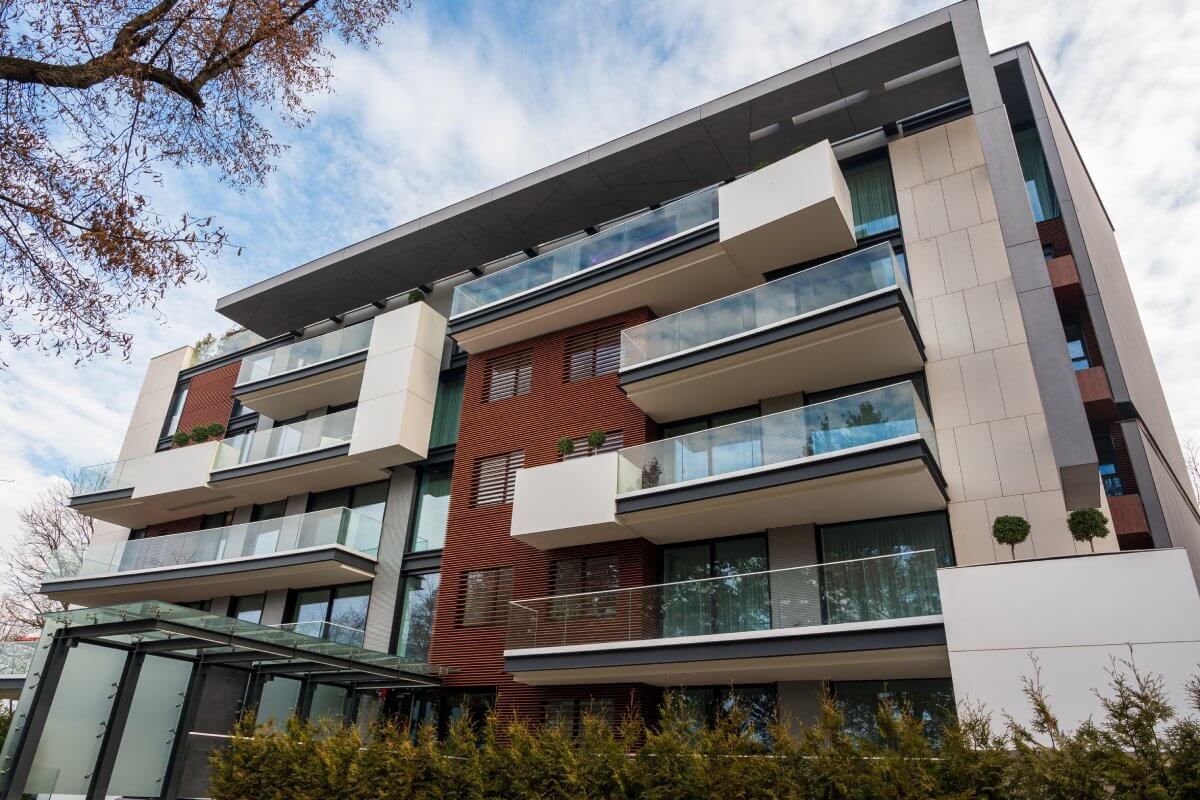 Balcony
If the property you are shooting has a terrace or balcony, you can capture some exterior aspects through them. You can showcase the view from and of the building. Depending on the scenery, you can decide the best time to shoot.
A park or an ocean view: If that is the view from the balcony, you should go for a daytime shoot. This way, all the details are captured in your shot.

An urban scene: to show its charm, you can go for dusk or even a night shot to demonstrate the city lights.
Playground
It's best to capture these in the daytime to show all the equipment. You can also go for a time that kids are playing, perhaps at the end of the day, to get a wholesome sensation.
Common areas
The shared spaces are either where sunlight hits them or among the buildings without direct sunlight. If there are benches among some greenery that catch light during the day, you can go with a morning shot. But, if the common areas don't get proper natural light, you can go for a dusk shoot while turning the artificial lights on.
Read More: Best Camera for Real Estate Photography
Best Time to Shoot the Interior
You have to capture multiple spaces when it comes to interiors. Use your pre-shoot checklist to inspect the property before shooting and assess the lighting situation. Keep in mind that indoor photos deal with many barriers and corners. Because of that, flashes are a great companion for real estate photographers. Also, you can benefit from HDR photography to capture all the details.
With interiors, there are differences between urban properties and other types of residences:
Stand-alone houses
The majority of suburban and farmhouses contain several windows that face various directions. A room, for example, may look most fabulous in the morning and another in the afternoon. You can either schedule several times of day to shoot these houses or choose which rooms are more significant to showcase. In this case, you can figure out the best time to shoot interior real estate photos.
You may face an open-concept floor plan or a traditional one.
Open-concept floor plan
Here, light travels effortlessly, and you can take advantage of it in mid-morning or afternoon, considering the direction light hits the estate.
Traditional floor plan
There may be rooms that have artificial lighting. You can push such spaces to the back of your list and focus on their functions and unique features.
Apartment buildings
Natural light is quite mischievous when it comes to urban spaces. With apartments and multi-family residences, usually due to window placement and their limited number, we don't have multiple directions of light.
You can focus on the following and pick the best time for shooting accordingly:
Rooms with natural light
Take advantage of any part of the property that gets sunlight. Choose mid-morning or afternoon, according to the placement of the windows. Try capturing the shades of light hitting the interior.
View from the windows
If you are shooting an apartment with an eye-catching view, choose your time accordingly to capture the scenery. Mornings work with park and ocean views, and sundown is best for capturing city lights.
Common indoor areas
The residence may have communal spaces like gyms or lounges. Often they are placed natural light is scarce. Since natural light is not your concern here, you can choose a time when the area is not crowded.
Read More: Best Camera for Real Estate Photography
Best Time to Capture Twilight Photos
Another thing that could benefit you while doing real estate photography is shooting twilight photos. Capturing the twilight is a bit tricky as the window for shooting is very narrow. Below we have a table that illustrates the best time for shooting during twilight or, as photographers call it, "the golden hour," around the year.
| | | |
| --- | --- | --- |
| Time of year | Sunrise | Sunset |
| 1-JAN | 7:22 am | 4:47 pm |
| 1-FEB | 7:08 am | 5:20 pm |
| 1-MAR | 6:33 am | 5:53 pm |
| DST starts 10-MAR | 7:19 am | 7:03 pm |
| 1-APR | 6:43 am | 7:25 pm |
| 1-MAY | 5:59 am | 7:56 pm |
| 1-JUN | 5:33 am | 8:24 pm |
| 1-JUL | 5:36 am | 8:33 pm |
| 1-AUG | 6:00 am | 8:14 pm |
| 1-SEP | 6:29 am | 8:00 pm |
| 1-OCT | 6:58 am | 7:09 pm |
| 1-NOV | 7:31 am | 5:58 pm |
| DST ends 3-NOV | 6:33 am | 4:55 pm |
| 1-DEC | 7:04 am | 5:06 pm |
To order Day to Dusk at an unbeatable price click below!
Conclusion
Choosing the best time to take real estate photos depends on various factors, including the weather, the time of the day, and the placement of the property. Generally, we recommend going for a sunny and bright day and scheduling the shoot for early to mid-morning or late afternoon. But we know that even with careful preparations, you may not have the best light with both the exterior and the interior on the shooting day. Also, many real estate photographers don't have the time to schedule a shoot for a whole day unless for extra large estates. That is why professional real estate photographers benefit from online services like image enhancement to overcome the limitation of the shooting day.